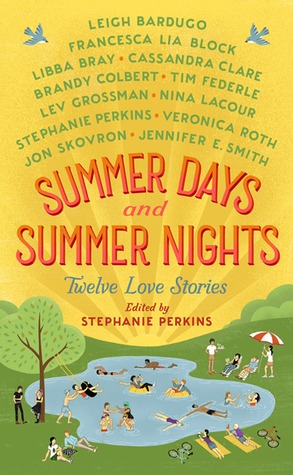 Written by twelve of the best-selling young adult writers today, Summer Days and Summer Nights, consists of a brand new love story in each chapter written by a different author. This anthology was edited by Stephanie Perkins, an international best-selling author, who also contributed to the book by writing a chapter herself titled, "In Ninety Minutes, Turn North." The remaining eleven authors who took part in writing this teen novel include Veronica Roth, Cassandra Clare, Leigh Bardugo, Francesca Lia Block, Libba Bray, Brandy Colbert, Tim Federle, Lev Grossman, Nina LaCour, Jon Skovron, and Jennifer E. Smith.
Each short story of, Summer Days and Summer Nights, is set in its own unique world that at times can seem similar to reality and other times incorporates the work of fantasy to tell the love story. All characters in this novel are either in their high school years or transitioning to college, which can cause a connection with readers of the same age. This modern anthology tells real stories of love and relationships that involves LGBT couples, mental illnesses in relationships, scenarios without a happy ending, and more. There are ups and downs just like in real life, but humorous, romantic, and happy moments are just as or even more frequent throughout the whole book.
Readers who take this book off the shelf will find times in the novel that are easy to relate to, no matter if they've ever fallen in love or not. Whether the story begins with a crush, an already existing couple, close friends, or two people who insist on steering clear from relationships, heartwarming love will inevitably bloom in these summer tales. Summer Days and Summer Nights: Twelve Love Stories is the perfect book to read for a relaxing summer day at the beach or a hot summer night. Who knows, maybe this heartfelt compilation of passionate affairs will encourage the readers, to find love for themselves and ignite unexpected, memorable relationships even if just for one summer.
Check ths book out or put it on hold
-Gaby C.